View all Books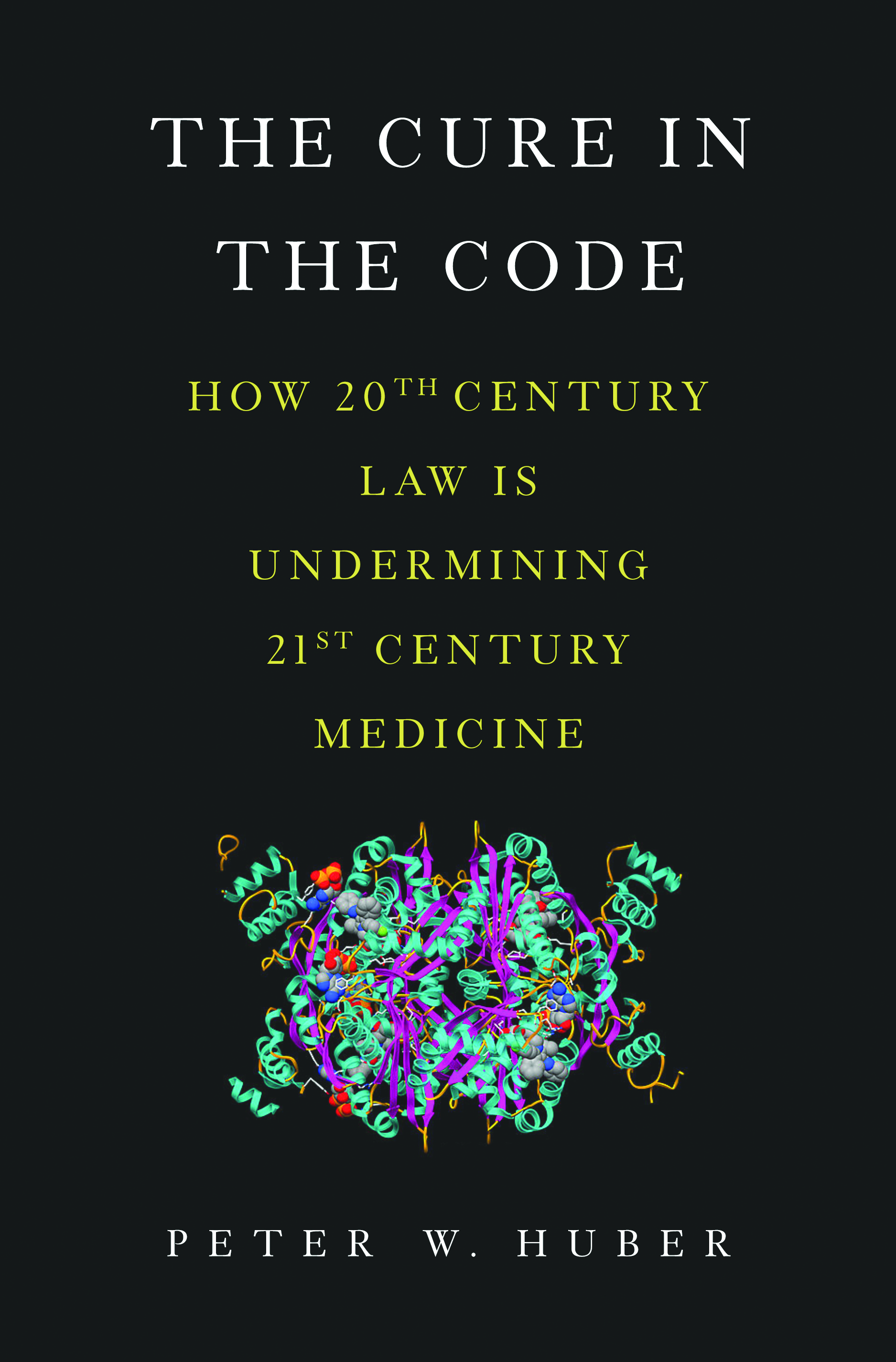 Health
The Cure in the Code
How 20th Century Law is Undermining 21st Century Medicine
Contact
communications@manhattan-institute.org
212-599-7000
[An] urgent, compelling account of how 21st-century medicine is being hampered by a regulatory regime built for the science of the 20th century.

Wall Street Journal
About the Book
Medicine is fast becoming a true information industry, with drug designers able to read every letter of life's code, create precisely targeted drugs to control it, and tailor their use to individual patients. But the translation of these advances into better medical care is lagging far behind the science, argues Manhattan Institute Senior fellow Peter Huber. The one-size-fits-all drug policies developed decades ago during medicine's long battle with infectious epidemics can't deal with diseases rooted in the complex molecular diversity of human bodies. Washington can't handle the torrents of data that now propel the advance of molecular medicine and is reluctant to embrace the statistical methods of the information age that can. Obsolete policies now stifle innovation and suppress investment in the medicine that can provide the best cures at the lowest cost.
In The Cure in the Code, Huber demonstrates convincingly that we are the beginning of a medical revolution with the potential to extend and dramatically improve the quality of our lives—but only if we get beyond a framework of scientific and economic regulation that is a relic of the past.
About the Author
Peter W. Huber is a senior fellow at the Manhattan Institute writing on the issues of drug development, energy, technology, and the law.
He most recently wrote The Bottomless Well, coauthored with Mark Mills, which Bill Gates said "is the only book I've ever seen that really explains energy, its history and what it will be like going forward." Huber's previous book, Hard Green: Saving the Environment from the Environmentalists (Basic Books, 2000), which was called "the richest contribution ever made to the greening of the political mind" by William F. Buckley, Jr., set out a new conservative manifesto on the environment which advocates a return to conservation and environmental policy based on sound science and market economics.
In the Media
Book Review: 'The Cure in the Code', Ronald Bailey, Wall Street Journal, 12-3-13
Obamacare's Risky Last-Minute Web Switch, Megan McArdle, Bloomberg, 12-19-13
Why You Should Be Furious That The Government Is Essentially Trying To Hobble 23andMe, Megan Rose Dickey, Business Insider, 12-13-13
Get Out of the Way of Medical Progress, Kira Zilani, U.S. News & World Report, 12-12-13
This Anti-Aging Brain Trust is the Most Interesting Startup in Silicon Valley, Christina Farr, 12-7-13
Keeping Up With Medical Advances, Kira Zalan, 12-6-13
Interview: How the Digital and Medical Revolutions Are Converging to Fight 'Future Disease', Matt Lewis, The Daily Caller, 11-21-13
The Cure in the Code, Politco.com's Bookshelf, 11-12-13
Adaptation: Backwards Regulations Can't Keep Up With the Fast and Furious Germs of the Future, Peter Huber, Wired.com, 11-9-13
November Book Round-Up, Scientific American, 11-9-13
Review: The Cured in the Code, Editors, BookList.com, 11-1-13
Review: How 20th Century Law is Undermining 21st Century Medicine, Editors, The Scientist.com, 11-1-13
Peter W. Huber. The Cure in the Code, Editors, Singular Health Law Blog, 10-13-13
Review: The Cure in the Code, Editors, KirkusReviews.com, 10-1-13
Review: The Cure in the Code, Editors, Publisher's Weekly, 9-9-13
The FDA and Methuselah, Peter Huber, Forbes.com, 04-12-10