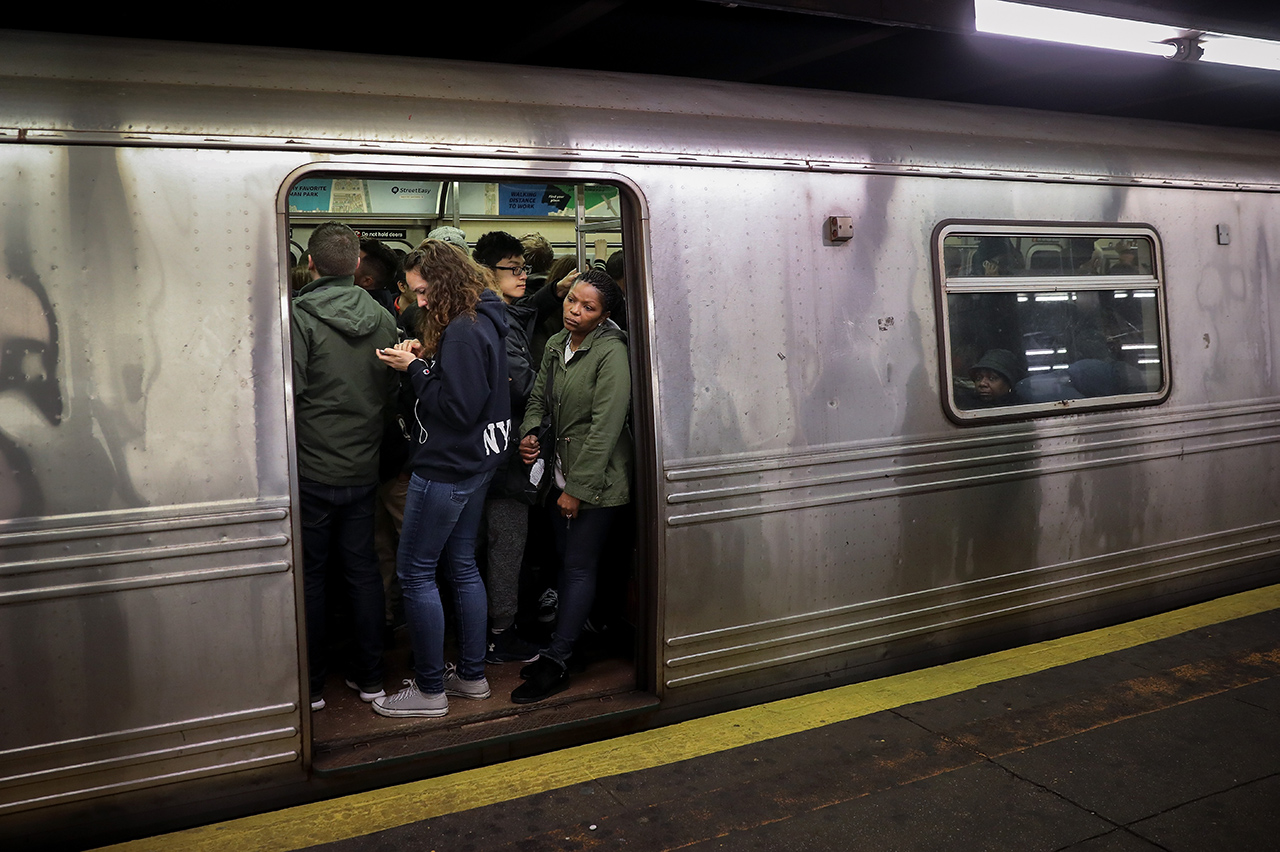 View all Articles
The New York City subway system's first modern experience with an outbreak of a deadly virus was half comedy, half triumph. In October 2014, Craig Spencer, an American doctor recently returned from treating Ebola patients in Guinea, decided to celebrate with a night on the town. From his West Harlem apartment, Spencer took three separate subways to a bowling alley in Williamsburg, Brooklyn, then took an Uber home.
The next day, he fell ill with a fever. Snarking commenters wagged that Spencer, with his perfect millennial mix of transportation and venue, had put all of gentrifying New York at risk of gruesome death, all because he wanted to amuse himself when he should have been self-quarantining.
Meanwhile, New York's public health system snapped to its protocol, one it rehearsed for years. Bellevue, the city's premier public hospital, isolated and treated Spencer until he made a full recovery. Public attention focused on the crowded subways Spencer had taken. One rider, donning medical gloves for her commute later that week, told the New York Post she wouldn't take any chances: "I don't play with my health." Another commuter vowed not to touch any subway poles. "I'm sticking to myself," he said. "I'm concerned about contracting the virus."
But the state-run Metropolitan Transportation Authority shined. It had a two-year-old pandemic plan in place, designed partly, as one former top MTA official remembers, in response to the reemergence of Ebola in Africa in 2012. The MTA noted in a confident statement that the Ebola virus could "not live for more than a few hours on hard services," and the authority already had a protocol for employees cleaning up potentially infectious waste, which could spread the virus. It had "updated its protocols to ensure employees are issued nitrile gloves, use a 10 percent bleach solution, and double-bag any potentially infectious waste." The Transport Workers Union agreed, noting that waste removal was "nothing new." To reassure New Yorkers, Mayor Bill de Blasio rode the subway a few stops in full view of the press, holding a coffee cup in one bare hand and a subway pole in the other.
The episode, soon forgotten, was a triumph for the MTA. Subway and commuter-rail riders didn't flee, and ridership reached record levels by 2016. The MTA, of course, knew that it could face other types of infectious diseases. But there, too, top officials felt comfortable. A 2011 Journal of Urban Health study, after all, published on the National Institutes of Health website, showed that even in a flu pandemic as virulent as the 1957-58 "Asian flu," which killed 1 million people globally, only "four percent of transmissions would occur on the subway." Most people would get sick in households or at school.
In mid-February 2020, even before New York had its first confirmed case of COVID-19, the MTA employed the same public health and PR protocol. On public health, the authority made clear it was deferring to state and federal experts. "We're following the guidance of CDC, the State Department of Health," said Chairman Patrick Foye. "They recommend that the public go about their business as usual." The MTA did step up its sanitation protocol and counseled riders to wash hands frequently.
But the message from Foye and the mayor was clear: Don't panic, don't change your behavior. Foye publicly rode the Long Island Rail Road commuter line from his suburban home to Manhattan, one hand on a pole and one hand on his phone. The mayor, too, once again took to the subway, as did his would-be successor, City Council Speaker Corey Johnson. "You can still ride the subway," said Johnson on March 5. "I did it today from Union Square down to City Hall." MTA workers who tried to wear masks received stern rebukes, with management warning it went against uniform regulations; it was unnecessary and would scare the passengers.
Unfortunately, following the strategy that worked so well six years before, this time brought about tragedy and disaster. As of mid-April, 61 members of the MTA's 74,000-strong workforce have died from COVID-19. At a death rate nearing 100 per 100,000 people, it's likely among the highest of any American workforce. With nearly 2,300 workers currently suffering from the illness, and thousands more out sick, the MTA can barely maintain the pared-down subway, bus, and rail schedule it started offering in mid-March.
But few commuters are around to notice. Subway ridership, typically nearing 6 million each day, is down 95%. With so many crews out sick, trains can suffer delays of 40 minutes or more, and some cars are still overcrowded with essential workers. By late March, after its first three transit deaths, the MTA had begun giving out masks and gloves to its workforce as quickly as it could get its hands on them, but the death rate continued to increase. Even with an early infusion of $4 billion in federal cash, the MTA is in severe financial distress, having warned its bondholders five separate times that its financial condition has deteriorated. Empty trains also mean rising disorder for thousands of homeless adult men. The subways remain their only haven. Crime is an issue as well. The MTA generally sees two murders in an entire year, but it recorded three in March.
Once New York emerges from its first go-around with COVID-19, the recriminations will start. Still, it is hard to see what good they will do. Should the MTA have shut service down altogether? Perhaps, but a full shutdown would have kept hundreds of thousands of grocery workers, food couriers, and home-health aides from their jobs. As Foye said in mid-March, such a drastic move would have been up to Gov. Andrew Cuomo, not up to him. Should the MTA have given out masks to workers more quickly? Likely, but it would be strange for a transit agency to bear the brunt of the criticism here when federal public health officials failed, too. The MTA eventually acted before the Centers for Disease Control and Prevention changed course.
The more critical and constructive part is what happens next, not just for New York's transit system, but for transit systems across the country. New York must lead the way, if only because the region's economy can't recover unless its transit system recovers: 77% of the 3.8 million people who commute to Manhattan each day come via transit, not via private car. "New York is not like other cities," says Sarah Feinberg, acting president of New York City Transit, the MTA's subway and bus division. "Many people do not own a vehicle. … The fact that so many in the city are dependent on the transit system is both a feature and a bug."
But other dense, wealthy cities, and significant contributors to federal tax revenues, depend on transit. From Boston to San Francisco, Washington to Chicago, rail and bus networks keep even more people from clogging crowded downtown streets with cars. Even in car-centric cities such as Houston and Detroit, bus networks get the poorest people in the workforce to and from their jobs without forcing them to incur the prohibitive monthly cost of owning and operating a car. Uber, Lyft, and other services won't fill the gap; they are expensive to use daily, and with 28 drivers dead in New York, hardly safer for workers or passengers.
Yet transit systems, and the regions they serve, face a hurdle: public fear, fear that will likely persist for months, if not years, after cities and states gradually start to reopen their economies. Tom Kozlik, head of municipal strategy at Hilltop Securities, a Dallas-based investment firm, voices concern from the perspective of an investor: "It is uncertain how willing riders will be to travel shoulder-to-shoulder standing on subways or riding on regional rail." Feinberg concurs: "It will take some time for ridership to feel comfortable and come back, just as it will take some time for people to be comfortable with restaurants, airplanes, sitting in a Broadway theater."
What can transit systems do? First, secure workplace safety. Federal public health officials should be providing support to transit systems to ascertain how employees and passengers have contracted the virus. Two months into the U.S. pandemic, though circumstantial evidence abounds, we still don't know: Are subway workers contracting COVID-19 from passengers, from fellow workers, or at home? Are they contracting it from surfaces or the air? How much protection do masks, gloves, and constant surface-cleaning afford?
The workforce needs a sure supply of medical-grade masks and gloves, optimally provided by the federal government. Longer-term, transit agencies will need to think about building enclosed booths for bus drivers, with personal air-circulation systems. The MTA is already experimenting with temperature checks for part of its workforce. As rapid-response testing develops, it and other transit agencies could potentially test workers daily, or have workers test themselves at home, making sure future waves of the pandemic, if they occur, don't spread widely.
Second, passenger health — and public perception. As the MTA's ill-fated early attempts to keep New Yorkers riding the subway show, those two things are not the same. The MTA should start handing out new, washable, reusable masks at major subway stations, as Spanish cities are doing. New York City should begin handing out millions of masks to residents in general, as Paris is doing, so that they can wear them in public, including on trains and buses.
Optimally, Washington would provide the equipment here, too: "I would love to see us have the ability and resources to hand out masks to every rider if they want one," Feinberg says. "But making sure my workforce has the supplies it needs is my top priority." Whether the MTA should require passengers to wear masks is a difficult question. "There are concerns about enforcement," notes Feinberg. But given a mask, most people will wear it. As passengers slowly come back to commuter rail, subway, and buses, the state could think about random temperature checks, too, and even, should the technology emerge, voluntary, rapid-response COVID-19 tests to assess continued community spread and respond to it.
Eventually, the MTA and other transit systems may have to redesign infrastructure to minimize touch. In Washington and London, fare gates open automatically, eliminating the need to push turnstiles; in Paris, passengers pay for commuter-rail rides through a fare gate rather than by interacting with a conductor who must touch tickets handed to him by hundreds of passengers on a New York commuter-rail line. Even further in the future, mass-transit systems must think about automating subway lines, as in Italy's Turin and France's Lyon, to minimize worker contact with passengers further.
New York City's government, also responsible for policing the subways, must come to terms with its long-term public policy failures. Even on a good day, it is inhumane for the de Blasio administration to expect homeless adults, many of them suffering from mental illness, to find their only refuge in the subway. New York must firmly insist that no one uses the transit system unless they are going to and from an origin or destination (perhaps within a two-hour time limit) and firmly provide a humane alternative. Nor can New York tolerate the chronic low-level fare-beating that leads to other lawlessness; a fare-beater allegedly committed one of March's three subway murders, and a mentally ill homeless man may have committed the second, via an arson fire.
For now, though, the nation's transit systems need something simple: money. Washington doesn't generally subsidize transit systems' day-to-day operations; it prefers to encourage capital investment in projects such as new subway lines. Republicans, in particular, are historically suspicious of mass transit. But transit systems around the country, whether New York's sprawling network, the backbone of its tax-paying, private-sector economy, or Detroit's modest bus system, the backbone of its low-wage workforce, now face the same problem: Even with fare revenue unlikely to recover anytime soon, they must run more service, not less, as passengers trickle back, to avoid crowding. Without transit, prosperous blue cities fail, and without rich blue cities, the nation's most productive tax base falters. As for red-state, car-centric towns and suburbs: If dense blue cities fail, red states and cities will become more crowded with their former residents.
This piece originally appeared at Washington Examiner
______________________
Nicole Gelinas is a senior fellow at the Manhattan Institute and contributing editor at City Journal. Follow her on Twitter here.
This piece originally appeared in Washington Examiner